Welcome again.
The SGG Board has a set of objectives and one of those is Communication : Articulate and promote the role of the SGG through enhanced communication with affiliated clubs and adding value.  The SGG sincerely thanks all the clubs for their assistance in publishing these newsletters via email forwarding or links from their own newsletters direct to their members. (The Board has other objectives which will be touched on in coming newsletters.)
At this busy time of year with ongoing newsworthy events such as the Simpson Cup, Junior competitions, etc. we have been publishing weekly newsletters. This is unlikely to continue all year which might cause problems in finding the "latest" edition if you use a link to your club webpage. You can get around this problem by direct SUBSCRIPTION for emails straight to your own inbox : SGG.Direct@gmail.com
SIMPSON CUP WEEK 4
Report from Simpson Cup team Manager, Norm Slater
 The weather forecast for our 'home' event was decidedly ominous with high winds and heavy showers anticipated.  Fortunately those predictions were delayed and the day turned out nice and sunny with all matches completed before the front came through about 6.00pm.
Our luck in the coin toss for playing honours has not changed – so far lost every one!
Steve Williams (Willunga) pushed his first tee shot off the first wide which put immediate pressure on him to sort out his game.  He battled on well getting to four down at one stage, then back to one down with three holes to play.  Unfortunately he couldn't maintain the pressure eventually losing 2/1.
Jamie Burt (Echunga) matched his opponent for most of their match but a couple of missed putts left him struggling eventually going down 4/3.
Matt McDonald (South Lakes) struggled with his short game against a pretty consistent opponent Matt Lawson, which eventuated with a 3/2 loss.
Jason Hyland (Echunga) kept up with his playing partner all day but pressure mid game had him five down playing the 13th hole. He fought back to be 2 down playing the 17th, needing to win both holes to halve the match. Jason hit a good tee shot down the middle while his opponent hit into the trees to the right, then pitched out down the fairway with his second shot. Jason had about 100m to the flag which was on the middle tier.  His pitch shot landed just above the tier and then agonisingly spinning back down to the bottom tier and eventually off the front of the green down the slope. His opponent then hit onto the bottom tier. Jason played a chip and run up the tier past the flag to the tier behind and rolled his ball back down to about 7 feet from the pin. His opponent hit a good putt up the slope for a gimme second putt, leaving Jason with a chance to win the hole and force the match to the 18th hole. The putt slide past the hole with Jason losing 2/1.
Matt Hage (Willunga) was matched with an intrepid opponent in Louis Fuller playing at #3.  Never really in the hunt, he finally succumbed 7/6.
'Mr Consistency' Phil Chapman (Aston Hills) had his game back on this day and "scrambled" really well all day with the highlight being on the par five 12th hole. Phil blocked his tee shot right which ended up on the other side of the trees where he played down the 13th hole to the furthest side of that fairway and some 135m away from the flag with a clear line to the flag through a 5metre gap in the trees which were about 30m in front of him. An exquisitely executed punched 3 iron flew between the tree trunks and then along the ground flirting with the bunkers protecting the front left of the green and running his ball up to 15 feet below the hole, which he coolly rolled into the cup for birdie and to go five up. Phil finished with 3 up and downs over the last three holes for par, birdie and birdie to win 6/5 against Will Arnold who struggled for consistency in his game.
Our captain David Ling (McCracken) playing at #1 came up against an in-form Billy Cawthorne who put pressure on from the get go.  Dinga missed two or three lip out putts to halve holes which only heightened his frustration on the day and struggled going down 7/6.
So to next week at The Vines against The Grange Golf Club, teeing off the 10th at 12.10pm.  A week off for the Queen's Birthday weekend then a potential battle for relegation against Flagstaff Hill at Kooyonga on 19th June.
Simpson Cup Southern team list for 5th June 2022   vs The Grange
The Vines GC – 10th  Tee 12:10pm
1          David Ling     (Captain)
2          Phil Chapman
3          Jackson Arthur
4          Nathan Separovitch
5          Steve Williams
6          Hayden Massey
7          Jamie Burt
Res.    Matt McDonald, Elliott Willgoose
JUNIOR S.A. PENNANT – Combined Junior Districts – Sharp Cup team results
The Sharp Cup team played their "home" match for the year at a well organised, well presented Willunga GC last Sunday against Tea Tree Gully. Thank you to everyone involved in the course preparation and organisation. Given the weather forecast, it was an excellent day to play golf at Willunga. The first nine was competitive for all our players, but they couldn't maintain the pace all day. Aston Hill's Robbie Hill, 2up after 17, pushed his drive right onto the adjacent fairway, and calmly proceeded to draw his second shot over the trees to finish just to the right of the 18th green. He played the hole out for a half to become our only winner, 2 up after 18.
The other four matches were decided on the 16, 17, and 18th holes. The team eventually lost 4 and 1.
Robbie Hill (Aston Hills) shows his power on the first tee at Willunga GC for an excellent start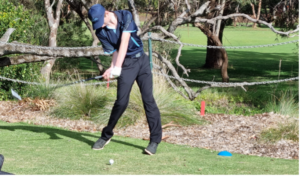 Robbie Hill's second shot to the 18th green, a lofted draw over the trees, setting him up to halve the hole and win the match.
Charley Moseley (Aston Hills) tees off on the 10th hole at Willunga GC with an interested team Manager, Helen Schulz (seated) looking on.
The Sharp Cup team for next Sunday, 5th June against The Grange is at Royal Adelaide, 8:40am start.
Max Jericho – (Barmera)
Mitchell Angel – (Kingston SE)
Cainton Stanley-Grace – (Streaky Bay)
Charlie Moseley – (Aston Hills GC)
Andy Kariuki – (Barmera)
JUNIOR S.A. PENNANT – Combined Junior Districts – Division 2 team results
The Division 2 team went down 4 to 1 against The Grange GC.  The only winner for our team was Sam Jericho (Riverland) who won 3 and 2.
Gabriel Aitken (Aston Hills), Lily Harris (Victor Harbor), and William Burt (Echunga) all played well on the day but were beaten by players in better form.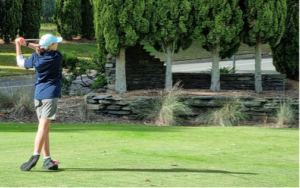 Lily Harris (Victor Harbor) with a relaxed follow through at Willunga GC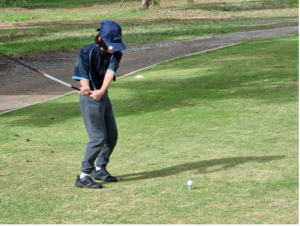 William Burt (Echunga) drives the tenth for his first CDJT appearance at Willunga GC
 The Division 2 team for next Sunday, 5th June against Tea Tree Gully at Royal Adelaide.
Division 2 Handicap Team – starting at 10.25am
Sam White – (Victor Harbor)
Sam Jericho – (Barmera)
Damien Hodge – (Port Augusta)
Oliver Riggs – (Victor Harbor)
George Longbottom – (Naracoorte)
School Golf Qualifier at Echunga GC – Results from Wednesday 1st June
Thank you to all who took part in this qualifying event. Congratulations to the top 5 players who are eligible to advance to the State-wide playoff.
Thank you to Echunga GC for providing the venue, also to Allan Telford (Golf Australia) and Esther and Jamie Burt who devoted their time to run the event.
 As usual for the primary schools events, the participants warmed up with a 90 minute skills session, had some lunch and then played the 9-hole competition in the afternoon.
 Harrison Burt (Littlehampton Primary School) qualified with a score of 39
 Brock Bezzina (Echunga) qualified with a score of 47
 William Burt (Littlehampton Primary School) qualified with a score of 48
 Sophie Membrey (St Mark's Lutheran School Mount Barker) qualified with a score of 59
 Dante Stubbs (Littlehampton Primary School) qualified with a score of 59
 Leroy Doeltgen (Meadows Primary School) participated but unfortunately failed to qualify.
Given that he had only tried golf for the first time 6 days earlier, Leroy put up  an outstanding performance.   Esther and Jamie Burt met Leroy when they visited the Meadows school on what was the first day of a 5 week golf coaching program being funded through the sporting schools grants funding initiative.
If anyone wants to know more about Golf Australia's involvement with the sporting schools grant initiative and would like to encourage/help their local school apply to participate, more information is available here:- https://www.sportaus.gov.au/schools/schools/sports/golf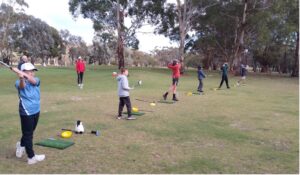 Sophie, Dante, Harrison, William, Leroy, and Brock warm up at Echunga. Allan Telford (Golf Australia) and Esther Burt (Echunga GC) look on.
More pictures from the day :-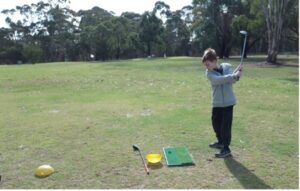 The next available event for 12 and under schoolkids in our area is a qualifier to be played on 16th June at Willunga GC.
The event is open for boys and girls 10 to 12 years as at 31 Dec 2022 with or without handicaps.
Primary or Secondary school students are eligible. ($10 cost per student on-line)
On-line registration at:- https://www.golf.org.au/events#/competition/3284542/info
ENTRIES CLOSE at 5pm 10th JUNE – Get in quick!
Golf Australia sponsored events such as these are great entry points for aspiring school children in our area – some of whom will be SGG Club members in the future – help them get an early start!
JUNIOR COUNTRY CHAMPIONSHIPS & BRETT OGLE CUP (Boys and Girls)
While on the subject of Southern Group Junior golfers:-  Parents / Grandparents who have promising young golfers (17 or under on 18th of July 2022) in their family and who fancy a few days staying in the Riverland might consider the two-day Junior Country Championship being held at Loxton Golf Club next school holidays (Monday 18th and Tuesday 19th July).
Any eligible junior can play in this two-day event, for more information follow this link :-
https://www.golf.org.au/events#/competition/3167645/info
(Online registration is essential and is now available – Entries close 4th July)
Players must be accompanied by a responsible adult and must have a GA handicap.
G.A. handicaps 17.9 or better will play Stroke, 18.0 plus will play Stableford.
Event 1 – Country Championships at Loxton Golf Club
Sunday 17th July is available for a practice round at Loxton
Monday 18th July – Round 1 – 18 holes Stroke or Stableford based on handicap
Tuesday 19th July – Round 2 – 18 holes Stroke or Stableford and Presentation
Note that juniors have to compete in this event to be eligible for the Brett Ogle Cup (Match Play) to be held at Berri Golf Club on Wednesday 20th and Thursday 21st July.
The Southern Golf Group is entering a team of 5 players and 2 reserves for the Brett Ogle Cup which will be held at Berri following on from the Country Championships.  Selection for this team will be based on last year's team topped up with any new talent identified in the coming weeks.
A training/skills event for interested juniors for this and future years will be held at Victor Harbor GC starting 1pm on the 25th June featuring a 1 hour training session with Duard Nel and Simon Pope (PGA members) plus community coaches as well as 9 holes of golf from Red/Blue tees with support regarding tactics and course management  from Coaches.
$5 entry  start time 1pm
For Information / registration, contact Duard Nel at:- proshop@vhgolf.com.au
Event 2 – Brett Ogle Cup at Berri Golf Club – Two divisions, based on G.A. handicap 17.9
Wednesday 20th July

Round 1 – 18 holes match play (Div 1 off-the-stick, Div 2 handicap)
Round 2 – 18 holes match play (Div 1 off-the-stick, Div 2 handicap

Thursday 21st July

Round 3 – 18 holes match play (Div 1 off-the-stick, Div 2 handicap
Presentation
For information on both events email here :- SGG.JuniorCoordinator@gmail.com
Victor Harbor Junior Open and Encouragement Cup – Tuesday 4th October
Sponsored by Harcourts and the Southern Golf Group
Entry for Fleurieu Peninsula  junior golfers Aged under 18yrs as of 30th October 2022 welcome
Categories
18-hole Championship Stroke event for  girls with a GA handicap
18-hole Championship Stroke event for  boys with a GA handicap
Encouragement cups:- 9-hole Orange Tee Maximum Score format for girls and boys with or without a GA handicap. (Junior rules supplied at the club prior to the game  – suitable for young juniors who are more comfortable with playing a short course)
Entry fees payable to The Victor Harbor Pro shop Duard Nel
Entry fees :- 18-hole stroke event –  $20.00  ; 9 hole event $10.00
All participants  receive prizes
Tee off times :-
18hole stroke – 10am from Red and Blue tees
Optional 9 hole MyGolf training and skills session – 10am from the orange tees
9 hole Max Score event – 11am from the orange tees
(All equipment for 9-hole participants can be borrowed at no cost for this day)
Parents are welcome to walk with their golfer but not carry the players' bags and are restricted to caddie rules as set by Golf Australia.
For Information / registration, contact Duard Nel or Linda Hodgson at:- proshop@vhgolf.com.au
JUNIOR SAND GREEN CHAMPIONSHIPS
Peterborough 11th and 12th June This is a GolfSA event for individuals.  Refer https://www.golf.org.au/events#/competition/3200815/info for entry details
Peterborough Junior Open & SA Junior Sand Greens Championship
Saturday 11th & Sunday 12th June at Peterborough Golf Club
Open to boys & girls who are aged 17 years and under as at 11th June 2022.
The event, conducted by Peterborough GC & Northern District Golf Group, will include:
SA Junior Sand Greens Championship – 36 holes
Peterborough Junior Open – 18 holes
Peterborough Sub Junior Events (no handicap required)