JUNE FOURTH SOUTH AUSTRALIAN PENNANTS COMPETITIONS
SIMPSON CUP –Cancelled
SHARP CUP – Cancelled
DIVISION 2 – Cancelled
So, no surprises there! And with a scheduled bye next weekend due to the long weekend, our elite senior and junior representatives should be well rested as the SA Pennant seasons wind up.
The Sharp Cup and Division 2 teams play their last matches at Glenelg on the 19th June, while the Simpson Cup team can look forward to two more rounds on the 19th June at Kooyonga and the 26th at Royal Adelaide.
MIXED GOLF – A new focus
In the absence of Senior and Junior SA Pennant results due to extreme weather conditions, this might be a good time to provide an update on one of the SGG Board's long term directions.
Please don't tune out just yet, just roll your eyes and read on, there might be something of interest to you. Like steak knives!
MIXED Handicap Competitions
For decades, the Pennant competitions have been the glue that holds our Southern Golf Group together.
A sobering statistic however, is the decline in our Men's Pennant competition. In 2010 the SGG had 2769 male members. This year we have 2690, roughly the same number. Yet in 2010 we fielded a total of 44 teams. In 2022, we had a total of 36 teams.
During the same interval, women's Pennant has thrived. Some reasons for this may be their matches are held on weekdays, and possibly because the women's events are more social.
The SGG's Women's Network committee is a very active and well organised group. The network fosters a very active inter-club relationship fuelled by immense enthusiasm. Undoubtedly the activity and organisation of this very inclusive group has a very positive effect on promoting a range of very popular activities.
The SGG Board recognises our responsibility, under Golf Australia, to grow overall participation and diversity in golf participation in our area. As such, later this year we will be asking our Clubs to suggest ways that we can foster these aims, and what assistance, including financial, the SGG can provide to the Clubs to better utilise their assets.
One evident growth area we can pursue is MIXED golf, which dovetails nicely with GA's diversity aims and also can leverage the obvious success of the existing women's network.
Zone Cup
Later this year the SGG is introducing a new competition, the ZONE CUP which we hope will become an annual feature. The Victor Harbor GC will be hosting the inaugural event, which is intended to be a celebration of the Southern Golf clubs.
Due to uncertainty about numbers for the inaugural event, the exact format is yet to be decided. It will definitely be a competition between MIXED PAIRS, possibly 2 person Ambrose, possibly Pinehurst / Foursomes.
It will be held on **Monday the 7th November**. The asterisks? Well, you should consider marking the date in your calendar in pencil, not ink because there is a catch. At least one member of each pair must be an official or committee person of the club (or life member).
The reasons for this are that the Board expects numbers to be over-subscribed and will need to limit numbers somehow, and also and more importantly to acknowledge the hard work that the very few put in for the betterment of the very many. Without willing volunteers, our clubs would struggle to exist and the Board thinks we should recognise and reward their importance to not just our individual clubs, but the Group as a whole.
Invitations will be extended to all clubs to nominate teams once details are finalised.
Mixed Handicap Matchplay
Another initiative the Board is pursuing is to hold a Group-wide Mixed Handicap Matchplay competition in coming years. This would be purely complementary to the existing Pennant competitions, definitely not a replacement.
Given the crowded golfing calendar and unknown popularity of any new competition, the SGG will be inviting up to 3 SGG clubs to host invitational Social events in the next 12 to 18 months.
Hopefully club members will support these trial events and provide feedback on making the event a permanent annual fixture.
Due to the lack of weekend availability, the events will necessarily be held during the working week.
The Board recognises that mixed and mid-week golf is not necessarily for everyone, but better utilisation of Club resources means more income for clubs and either lower membership fees or more money spent on courses!
As well as avoiding squeezing more competitors onto already crowded courses on a weekend, holding the events on working days will enable clubs to better utilise their courses and dining rooms. Provision of meals in a social atmosphere will be essential for all hosting clubs.
It is anticipated that the competitions will be biased towards social enjoyment rather than strict rules of eligibility/order of play, etc. that is part and parcel of the Pennant competitions.
For example, smaller clubs will be able to enter only one mixed pair, as results will be calculated on average score for each club.
Pairs can be chosen on compatibility rather than based on comparable handicaps (choose your partners, Ladies).
To avoid handicap and hole length complications, the preferred format will be Pinehurst Foursomes. All 18 holes in each match will be played out as winning margins will count towards the final result.
Oakbank GC has volunteered to hold one such event, more details in coming weeks.
BUT WAIT, there's more!
Is there? Well, that really depends on our Clubs and their members.
The SGG Board is prepared to consider financial backing of any event that promotes our goals. There is no set criteria or amount, each proposal will be decided on its merits.
So, if you have an idea for any SGG-wide golfing event which increases participation and encourages diversity, please feel free to suggest  it to your Club Board / Match Committee and get them to formalise a proposal.
No extra set of steak knives, (someone explain that to the kids) just a lot of extra fun and enjoyment for as many people as we can include.
2022 Strathalbyn Women's Gala Day
On Friday May 27th the ladies of Strathabyn Golf Club held another very successful Gala day with the theme of 'Black and White'.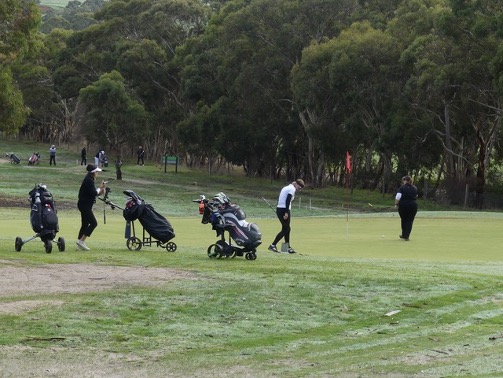 64 ladies from 13 clubs across the Fleurieu, Hills and City joined in for the fun of the day. It was great to see the ladies dressed in their black and white attire.
They all started in cool but pleasant weather with a little drizzle occurring at various times during the day. However, it didn't deter the ladies one bit.
As the groups passed the clubhouse, they were treated to pumpkin, minestrone or mushroom soup which some ladies commented that this was part of the reason for coming to the day.
One of the most exciting places to be on the course was the 6th/15th hole as that's where the men set up their betting hole with enticement of Port and chocolates beside the fire pit. The idea was to hit over the creek without hitting Cal who bravely stood in the creek to retrieve any balls that went astray.
Winners of the day with a nett score of 75.25 were Kim Tucker and Lyn Kiddey from Thaxted Park. Runners up with a score of 77.12 were Gail Stringer and Robyn Hosking from Links Lady Bay. The gross winners with 86 were Jane Stewart and Carol Collins from Willunga, followed by runners up Jenny Sandow and Di Traeger from South Lakes on 93.
The longest drive on the 3rd /12th for 'A' Grade was Jane Stewart and for 'B' Grade was Gail Stringer. NTP for 'A' Grade on the 17th hole was Di Traeger and 'B' Grade on the 9th was Sue Gibson from Aston Hills.
'Nearest Dolly the sheep' was not the best place to be as she was very close to the dam and was won by Di Traeger. 'Nearest Cal's calf' was a more disastrous place to be as it meant that the creek came into play and was won by Gail Harris from Thaxted Park.
The best dressed team was a pair of unlikely zebras roaming our golf course hiding Jane Stewart and Carol Collins.
Simone Coonan from Aston Hills won best dressed single player shedding her black boa feathers as she went.
Our generous sponsors had our raffle table brimming with goodies from local businesses and the trading table was a roaring success.
A huge thankyou to all the volunteers who helped make this day such a success – preparing and decorating the course and the clubhouse, organising the trading table, gathering raffle prizes, preparing the delicious food, serving the tables, manning the bar, organising the carts, running the betting hole and doing the washing up.
Thank you must also go to our Captain Jenny Drury and Vice-Captain Sue Hall who managed the day's competition without a hitch.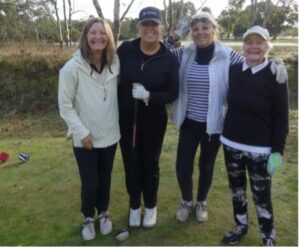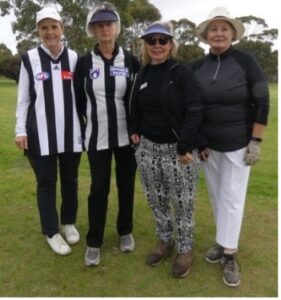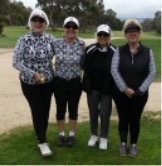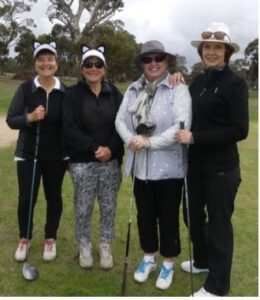 2022 South Australian Women's Country Week

Registrations are now open for the 2022 South Australian Women's Country Week :-
https://mailchi.mp/golf/sa-events-06062022?e=b3ca6b3e4b
Silver Salver: GA to 16.0 at Murray Bridge Golf Club
Monday – Welcome Cocktail
​Tuesday & Wednesday – 36 Holes Strokeplay
Wednesday night – Dinner ($40pp – optional)
Thursday – 18 Hole Foursomes & Lunch
Bronze Salver: GA 16.1 to 21.4 at Tumby Bay Golf Club
Monday – Welcome Cocktail
​Tuesday & Wednesday – 36 Holes Strokeplay
Wednesday night – Dinner ($40pp – optional)
Thursday – 18 Hole Foursomes & Lunch
Bronze Shield: GA 21.5 to 28.0 at Victor Harbor Golf Club
Monday – Welcome Cocktail
​Tuesday & Wednesday – 36 Holes Strokeplay
Wednesday night – Dinner ($40pp – optional)
Thursday – 18 Hole Foursomes & Lunch
Bronze Place: GA 28.1 to 54.0 at Maitland Golf Club
Monday – Welcome Cocktail
​Tuesday & Wednesday – 36 Holes Strokeplay
Wednesday night – Dinner ($40pp – optional)
Thursday – 18 Hole Foursomes & Lunch
Please Note:
Silver Salver includes the Women's Country Championship
Bronze Salver includes the Bronze Country Championship.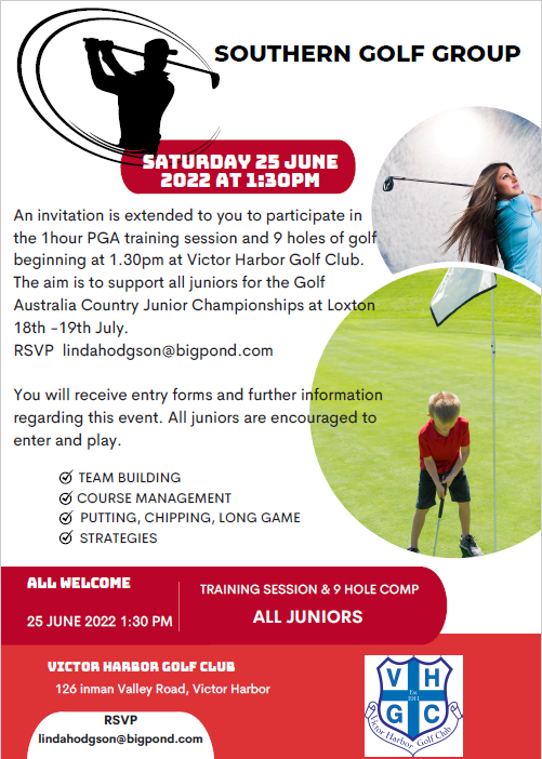 JUNIOR COUNTRY CHAMPIONSHIPS & BRETT OGLE CUP (Boys and Girls)
While on the subject of Southern Group Junior golfers:-  Parents / Grandparents who have promising young golfers (17 or under on 18th of July 2022) in their family and who fancy a few days staying in the Riverland might consider the two-day Junior Country Championship being held at Loxton Golf Club next school holidays (Monday 18th and Tuesday 19th July).
Any eligible junior can play in this two-day event, for more information follow this link :-
https://www.golf.org.au/events#/competition/3167645/info
(Online registration is essential and is now available – Entries close 4th July)
Players must be accompanied by a responsible adult and must have a GA handicap.
G.A. handicaps 17.9 or better will play Stroke, 18.0 plus will play Stableford.
Event 1 – Country Championships at Loxton Golf Club
Sunday 17th July is available for a practice round at Loxton
Monday 18th July – Round 1 – 18 holes Stroke or Stableford based on handicap
Tuesday 19th July – Round 2 – 18 holes Stroke or Stableford and Presentation
Note that juniors have to compete in this event to be eligible for the Brett Ogle Cup (Match Play) to be held at Berri Golf Club on Wednesday 20th and Thursday 21st July.
The Southern Golf Group is entering a team of 5 players and 2 reserves for the Brett Ogle Cup which will be held at Berri following on from the Country Championships.  Selection for this team will be based on last year's team topped up with any new talent identified in the coming weeks.
Event 2 – Brett Ogle Cup at Berri Golf Club – Two divisions, based on G.A. handicap 17.9
Wednesday 20th July

Round 1 – 18 holes match play (Div 1 off-the-stick, Div 2 handicap)
Round 2 – 18 holes match play (Div 1 off-the-stick, Div 2 handicap

Thursday 21st July

Round 3 – 18 holes match play (Div 1 off-the-stick, Div 2 handicap
Presentation
FOR INFORMATION on both events email here :- SGG.JuniorCoordinator@gmail.com
Victor Harbor Junior Open and Encouragement Cup – Tuesday 4th October
Sponsored by Harcourts and the Southern Golf Group
Entry for Fleurieu Peninsula  junior golfers Aged under 18yrs as of 30th October 2022 welcome
Categories
18-hole Championship Stroke event for  girls with a GA handicap
18-hole Championship Stroke event for  boys with a GA handicap
Encouragement cups:- 9-hole Orange Tee Maximum Score format for girls and boys with or without a GA handicap. (Junior rules supplied at the club prior to the game  – suitable for young juniors who are more comfortable with playing a short course)
Entry fees payable to The Victor Harbor Pro shop Duard Nel
Entry fees :- 18-hole stroke event –  $20.00  ; 9 hole event $10.00
All participants  receive prizes
Tee off times :-
18hole stroke – 10am from Red and Blue tees
Optional 9 hole MyGolf training and skills session – 10am from the orange tees
9 hole Max Score event – 11am from the orange tees
(All equipment for 9-hole participants can be borrowed at no cost for this day)
Parents are welcome to walk with their golfer but not carry the players' bags and are restricted to caddie rules as set by Golf Australia.
For Information / registration, contact Duard Nel or Linda Hodgson at:- proshop@vhgolf.com.au
12 and Under School Golf Qualifier:- To be held on 16th June at Willunga GC.
The next available event for 12 and under schoolkids in our area is a qualifier to be played on 16th June at Willunga GC.
The event is open for boys and girls 10 to 12 years as at 31 Dec 2022 with or without handicaps.
Primary or Secondary school students are eligible. ($10 cost per student on-line)
On-line registration at:- https://www.golf.org.au/events#/competition/3284542/info
ENTRIES CLOSE at 5pm 10th JUNE – Get in quick!
Golf Australia sponsored events such as these are great entry points for aspiring school children in our area – some of whom will be SGG Club members in the future – help them get an early start!
If anyone wants to know more about Golf Australia's involvement with the sporting schools grant initiative and would like to encourage/help their local school apply to participate, more information is available here:- https://www.sportaus.gov.au/schools/schools/sports/golf
JUNIOR SAND GREEN CHAMPIONSHIPS
Peterborough 11th and 12th June
This is a Golf Australia  event for individuals.
Refer https://www.golf.org.au/events#/competition/3200815/info for entry details
Peterborough Junior Open & SA Junior Sand Greens Championship
Saturday 11th & Sunday 12th June at Peterborough Golf Club
Open to boys & girls who are aged 17 years and under as at 11th June 2022.
The event, conducted by Peterborough GC & Northern District Golf Group, will include:
SA Junior Sand Greens Championship – 36 holes
Peterborough Junior Open – 18 holes
Peterborough Sub Junior Events (no handicap required)