SOUTH AUSTRALIAN PENNANTS COMPETITIONS
SIMPSON CUP
Report from Norm Slator, Team Manager
The final round for our Southern team was played at Royal Adelaide golf course against fourth positioned Glenelg, our Southern team needing a halved match to remain in the top division.  Two late withdrawals from the selected team resulted in a tactical shuffle of players to try and offset the strength of the Glenelg side.
Matt McDonald had a very evenly matched tussle with his opposite #7 with only a hole or two going either way throughout the duration of the game.  Matt was trailing two down after 15 holes and managed to claw one back at the par 3 16th to only be one behind, but unfortunately could not manage to change the eventual result going down by one on the eighteenth green.
Stevie Williams playing at #6 fought hard all day with another game fluctuating by only a hole or two throughout the match.  Being all square going down the 18th, Steve drained a 20 ft putt on the last to really put the pressure on his opponent to drop his putt. He missed the putt resulting in a win for Steve at one-up and one match each for Southern and Glenelg.
Jase Hyland was hoping to recapture his outstanding performance of the week before and had a flying start going 3 up after 8 holes.  Unfortunately small mistakes and a surge of pressure from his opponent saw a complete turn around of play and Jase could not stop the bleeding losing the next seven holes to lose his match 4/3.
Jackson Arthur playing at #4 started very confidently and quickly put pressure on his opponent leading 3 up after 12 holes.  Typical of this standard of play his opponent managed to turn the game around over the next few holes with the result that the match ended in a draw.
Captain David Ling knew he needed to bring his top game after a couple of poor results from the last couple of weeks.  True to his nature and fighting spirit "Dinga" performed outstandingly and ran out winning his match 3/2.
Jamie Burt was thrown to the wolves playing at # 1 against Glenelg's Harry Burner who convincingly beat Billy Cawthorn from Royal Adelaide 7/6 the previous week.  Jamie quickly went 5 down after seven holes but managed to turn the tables winning the next 3 holes to be two down after 10.
As one would expect from a top player, Harry settled and pulled back to eventually win 4/3.  A great effort from Jamie.
With the overall standings now at 2½ games each, the battle of game #2 between Phil Chapman from Southern and Zac Bray from Glenelg strung out the tension.  Southern had everything to play for as a win for Phil would halve the match and keep Southern in the top Division next year.
An even match all day with Zac going 1 up with a birdie at the first, and Phil hitting in close for birdie at the 2nd and back all square.
Phil was in trouble on the fourth with the rain coming down but a 3 putt from Zac halved the hole.
A great up and down after being short sided behind the front right bunker on the fifth and another 3 putt by Zac and Phil was 1 up.
Phil missed opportunities at getting up and down from the front of the 6th green and a missed side hill putt from 3 feet at sloping 7th green from extending his lead.
A missed fairway at 8th by half a foot into a bad lie led to a bogie and all square.
Halved holes followed even on the 11th where Phil hit a great 2nd shot to 5 feet only to watch his opponent sink a putt from over 20 feet for birdie to halve the hole.
Good opportunities for birdies by Phil and the win on the  thirteen from 15 feet and again on fifteen from 8 foot both slid past the hole.
A fifty-foot putt by Phil on seventeen lipped out and the match was still all square after 9 straight halved holes.
Zac with the honour on the last hole teed off with a strong left to right wind and sprayed his tee shot wide of the right-hand side fairway bunker.
Chappie also lost his drive to the right on the wind in the middle of the fairway bunker and near the face with no chance of reaching the green in two. The shot out of the bunker left him a 66m shot while Zac's second shot ended up in the front right bunker.
Phil played a beautiful pitch shot to 8 feet while Zac's bunker shot ended up a good 10 feet away from the hole.
Zac played first and missed his putt opening the door for Phil to hole out and win this match, obtain the half that Southern needed to avoid regulation and possibly deny Glenelg of making the finals.
Tension was in the air for both sides as Phil stalked his putt, lined up with the crowd all silent, stroked his putt which broke right and missed on the low side. A halved match which unfortunately meant the team narrowly lost 4 games to 3, and ultimately finished bottom of the ladder by half a match!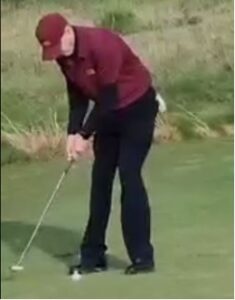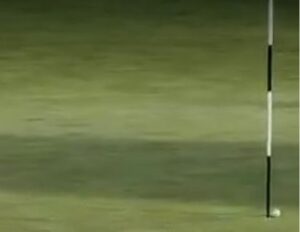 Phil Chapman putts on the 17th green (waiting, waiting, waiting) The ball emerging from the 17th hole after a fifty foot putt lip-out.
SIMPSON CUP WRAP-UP
Next season Southern will be relegated to Division 2 and the squad is determined to post early wins to get back up!
My thanks for the support of the SGG Board and particularly the players who tried their utmost to produce a more positive result.
I would like to make particular mention of Jamie Burt for his enthusiastic and untiring efforts in getting players to commit to play for the Southern team.
JUNIOR S.A. PENNANT
Combined Junior Districts – Sharp Cup team results
 The Southern team wrapped up the minor round with a draw against Royal Adelaide at Tea Tree Gully on Sunday.  The team finished last of 6, only half a match and 1 ½ games behind Tea Tree Gully in fourth place.
Due to the vagaries of Matchplay events, the team actually won more individual games than 5th placed Kooyonga (9 vs 6.5) but were a crucial half a team match less than them.
Given that the Sharp Cup competition is off-the-stick and most of the CJD team were well behind on individual handicaps every week, a very credible outcome from the team.
Combined Junior Districts – Division 2 team results
The Southern team finished the minor round with a disappointing 5-0 loss against The Vines at Tea Tree Gully on Sunday.  The team finished 7th, only half a match and 4 games behind fourth-placed Kooyonga.
Country District Junior Team Wrap – Up
A great effort by all the players and Team organiser Allan Telford from Golf Australia and Team Manager, long-time SGG Junior stalwart Helen Schulz. Also to all the clubs, course officials and parents who provided support during the Pennant season.
The SGG is pleased that it was able to provide the Combined team with a group of young talented golfers who will greatly benefit from this year's experience and thanks the clubs for the ongoing junior development of our youth.
JUNIOR COUNTRY CHAMPIONSHIP AT LOXTON (Boys and Girls)
The SGG already has 9 players registered for this event – 2 from Aston Hills, 4 from Victor Harbor and 3 from Willunga Golf Clubs. But there is room for more! Register by 5pm next Monday!
Parents / Grandparents who have promising young golfers (17 or under on 18th of July 2022) in their family and who fancy a few days staying in the Riverland might consider the two-day Junior Country Championship being held at Loxton Golf Club next school holidays (Monday 18th and Tuesday 19th July).
Any eligible junior can play in this two-day event, for more information follow this link :-
https://www.golf.org.au/events#/competition/3167645/info
 (Online registration is essential and is now available – Entries close 5pm 4th July)
Players must be accompanied during travel and accomodation by a responsible adult and must have a GA handicap.
G.A. handicaps 17.9 or better will play Stroke, 18.0 plus will play Stableford.
Country Championships at Loxton Golf Club
Sunday 17th July is available for a practice round at Loxton
Monday 18th July – Round 1 – 18 holes Stroke or Stableford based on handicap
Tuesday 19th July – Round 2 – 18 holes Stroke or Stableford and Presentation
FOR INFORMATION on this event, email :- SGG.JuniorCoordinator@gmail.com
Victor Harbor Junior Open and Encouragement Cup – Tuesday 4th October
Sponsored by Harcourts and the Southern Golf Group
Entry for Fleurieu Peninsula  junior golfers Aged under 18yrs as of 30th October 2022 welcome
Categories
18-hole Championship Stroke event for  girls with a GA handicap
18-hole Championship Stroke event for  boys with a GA handicap
Encouragement cups:- 9-hole Orange Tee Maximum Score format for girls and boys with or without a GA handicap. (Junior rules supplied at the club prior to the game  – suitable for young juniors who are more comfortable with playing a short course)
Entry fees payable to The Victor Harbor Pro shop Duard Nel
Entry fees :- 18-hole stroke event –  $20.00  ; 9 hole event $10.00
All participants  receive prizes
Tee off times :-
18hole stroke – 10am from Red and Blue tees
Optional 9 hole MyGolf training and skills session – 10am from the orange tees
9 hole Max Score event – 11am from the orange tees
(All equipment for 9-hole participants can be borrowed at no cost for this day)
Parents are welcome to walk with their golfer but not carry the players' bags and are restricted to caddie rules as set by Golf Australia.
For Information / registration, contact Duard Nel or Linda Hodgson at:- proshop@vhgolf.com.au
2022 South Australian Women's Country Week
Registrations are now open for the 2022 South Australian Women's Country Week :-
https://mailchi.mp/golf/sa-events-06062022?e=b3ca6b3e4b
Silver Salver: GA to 16.0 at Murray Bridge Golf Club
Monday – Welcome Cocktail
​Tuesday & Wednesday – 36 Holes Strokeplay
Wednesday night – Dinner ($40pp – optional)
Thursday – 18 Hole Foursomes & Lunch
Bronze Salver: GA 16.1 to 21.4 at Tumby Bay Golf Club
Monday – Welcome Cocktail
​Tuesday & Wednesday – 36 Holes Strokeplay
Wednesday night – Dinner ($40pp – optional)
Thursday – 18 Hole Foursomes & Lunch
Bronze Shield: GA 21.5 to 28.0 at Victor Harbor Golf Club
Monday – Welcome Cocktail
​Tuesday & Wednesday – 36 Holes Strokeplay
Wednesday night – Dinner ($40pp – optional)
Thursday – 18 Hole Foursomes & Lunch
Bronze Place: GA 28.1 to 54.0 at Maitland Golf Club
Monday – Welcome Cocktail
​Tuesday & Wednesday – 36 Holes Strokeplay
Wednesday night – Dinner ($40pp – optional)
Thursday – 18 Hole Foursomes & Lunch
Please Note:
Silver Salver includes the Women's Country Championship
Bronze Salver includes the Bronze Country Championship.
2022 South Australian Men's Country Week
See: https://www.golf.org.au/events#/competition/3251916/info